Round 1 Outreach Dates
The Department of Environmental Affairs has appointed a project team consisting of the Council for Scientific and Industrial Research, the South African National Biodiversity Institute and the Council for Geoscience to undertake a Strategic Environmental Assessment for shale gas development. As part of the outreach process, 3 public briefings sessions and 1 registered stakeholder workshop have been arranged in the study area. They are as follows: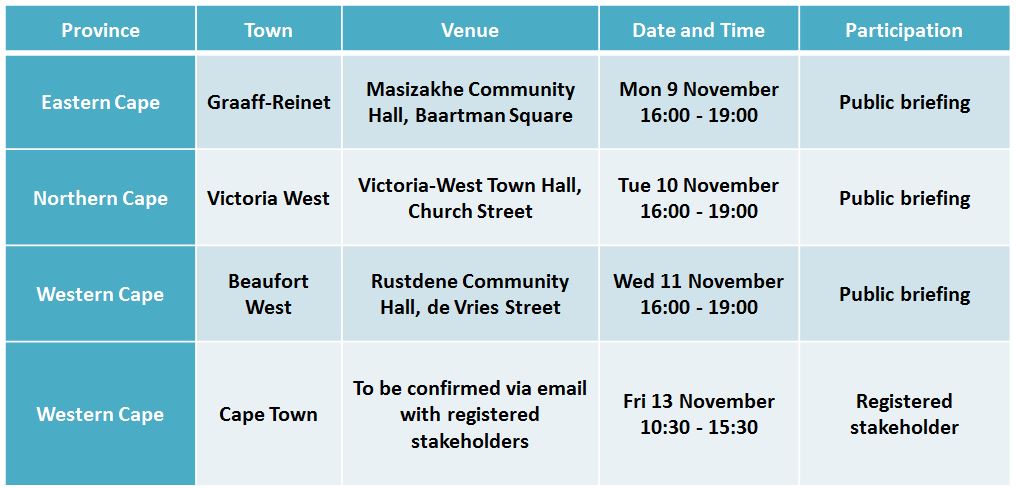 Should you wish to register as a general stakeholder or to register to attend the Cape Town workshop, please visit the project website at http://seasgd.csir.co.za/. For more information on the outreach programme, please consult the project website (where questions can be asked electronically) or contact Ms Megan de Jager or Mr Andile Dludla on 021 888 2482.
Approach to Outreach
As part of the public outreach plan for the shale gas SEA, two rounds of open public briefings in the study area are proposed along with supplementary registered stakeholder workshops.
Round 1 of the outreach programme will be undertaken from 09-13 November 2015 (please see the itinerary below). Three public briefings are proposed and one registered stakeholder workshop. The 3 public briefings will be undertaken in Beaufort West (Western Cape), Victoria West (Northern Cape) and Graaff-Reinet (Eastern Cape).
The registered stakeholder workshop will be held in Cape Town. Please note that registered stakeholders may nominate individuals to represent them at the stakeholder workshops and these nominations should be made to seashalegas@csir.co.za before 06 November.
The scope of the Round 1 outreach will be to introduce stakeholders to the SEA process and discuss the contents of the scope of work as indicated in the Zero Order Draft (ZOD). The ZOD will be released on the project website prior to the briefings and workshop and will be open to public comment which will be read and considered by the Project Team and relayed to the Multi-Author Teams, but not responded to on an individual basis. Round 2 of the public outreach will be undertaken following the release of the Second Order Draft Assessment for public comment ~June 2016.